SASSA November Collection Dates
SASSA November Collection Dates the South African Social Security Agency (SASSA) processes a number of different social relief grants and provides invaluable support to the most vulnerable members of our society.
Old age and disability grants recipients receive R1 890, while people above the age of 75 (along with war veterans) receive R1 910. Foster care grant recipients receive R1 050, while care dependency is R1 890. The current amount for the child support grant is R460.
Payment dates for the month of November
Old persons grant – 3 November 2021
Disability grants – 4 November 2021
Child support grants – 5 November 2021
The SASSA SRD grant payment dates for November are, according to the last three digits of your ID number,:
Mondays: 084 & 089
Tuesdays: 080 & 085
Wednesdays: 081 & 086
Thursdays: 082 & 087
Fridays: 083 & 088
You are urged to wait for an SMS to tell you that your grant is ready to be collected or else you'll be heading to the Post Office for nothing, with no grant ready for you to collect. After receiving the SMS you should then check which day your ID number falls under before visiting the Post Office to collect your grant payment.
If you have not received an SMS that means that there's no grant ready to collect.
SASSA has said that you do not need to fetch your grant on the first day and that the money will always be there for you to collect.
These dates are important to note as the Post Office, who distributes grants on behalf of SASSA, does not process the R350 grant on these selected days.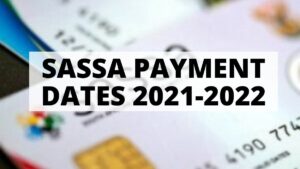 This is because SASSA does not have a dedicated payment date for the R350 Social Relief of Distress (SRD) grant. The SRD grant payment date is determined by SASSA based on personal eligibility to receive the grant.
SRD grant beneficiaries are urged to wait for an SMS informing them that their money is available. This would prevent SRD grant applicants from going to the post office and being turned away.
Minister of Social Development, Lindiwe Zulu, today, officially launched the report titled "The Rapid Assessment of the Implementation and Utilisation of the Special Covid-19 SRD Grant".
The Special Covid-19 SRD Grant was first introduced by President Cyril Ramaphosa in April 2020 as part of the Government's R500 billion stimulus package to control and mitigate the negative socio-economic impact of the pandemic in South Africa. The SRD Grant was targeted mainly at those aged 18-59 years without any source of income support and those facing undue hardships due to unemployment, loss of jobs and livelihoods.
Of over 9 million applications received, the grant reached over 6 million eligible applicants for indirect income support transfers. The findings of the study highlight the impact of the grant in cushioning the most vulnerable against the negative impact of the pandemic and how some beneficiaries used the grant to start successful income-generating initiatives